©2010-2016 1159 Productions Ltd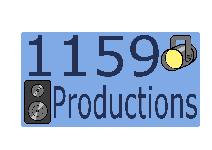 1159 Productions started in the early 90s as a hobby that kept on growing. In 1997 the hobby had grown out of hand and the original two partners officially formed 1159 Productions Ltd. The intention was to fill the gap in the market between the big hire companies whose pricing was often outside the possibilities of small local groups, and the opposite end of the scale where one man and his dog turned up with his home stereo. 1159 could provide affordable quality.
1159 Productions has seen many changes in the industry over the years and indeed changes within the company but has continued to grow up to the present day. We still provide affordable technical solutions to many local organisations (including many from when we first started trading) but our reputation has grown and we now also do many larger events for a variety of different organisations including Chelmsford Borough Council, Bournemouth symphony orchestra, Holiday Inn, Top Shop, Conservative Party, Essex County Concil, Chelmsford Diocese, Racing Post, Asda and Park Resorts.